Taking in-studio self-portraits with the Sigma 105mm ART
I needed to update my headshot and profile shot(s) and that meant, I needed to take a few pictures of myself. Yeah…easier said than done, because of lack of time and mostly because, like many others, I don't really like being on the other side of the lens. That said, I still needed new pictures and so, I took a few test shots in studio, when setting up my lights and after a photo shoot with a client.
I tried to photograph self-portraits
This was the first time I tried to take self-portraits, in my tiny studio, with the Sigma 105mm ART.

Lighting setup:
First I used two SB 700 Nikon speedlights on stands, with umbrellas, and then my Profoto D1 lights with the 1 x 3 ft strip lights (softboxes).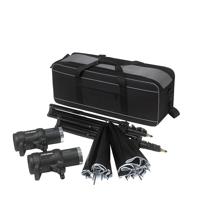 For all the images shared in this post I used the Profoto lighting gear, a seamless paper backdrop (fashion gray, like the one shown below) and my camera on self-timer set to shoot a burst of five images at a time, to get as many posing options (per burst) as possible.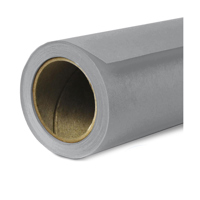 Camera settings:
ISO 200. Aperture f/8-ish. Shutter speed varied between 1/125 to 1/200. Shooting at f/1.4 turned out not to be the best option, for one, because the slightest subject movement threw almost everything out of focus.
One more thing: I placed a light stand where I would stand, in front of the backdrop, its tip at my eye level, and focused on that tip; then marked the spot (literally, with photographer's tape) on the floor, so I know where to stand when in front of the camera.
My two cents on posing for self-portraits:
Posing yourself in front of the camera, when taking self-portraits, can be quite difficult. On one hand, because it feels awkward, on the other hand, or rather on top of that, because you constantly have to remember to keep your eyes at a certain distance from the camera and your body within the frame.
One thing I found helpful was to really study the pose, composition and so on, when going back to the camera to check out the shots, to really look at them and consider changes, if need be. Also, like with any other photo shoot, it's a good idea to use a few props: glasses, hat (especially if you have a bad hair day, lol!), and so on.
Also, keep in mind that a self-portrait photo shoot can be more time-consuming than a regular photo shoot. Maybe try to schedule shorter shoots; have a specific look, mood, or goal in mind for each photo shoot.
In post, when going through your images, also look for would-be funny or behind-the-scenes (bts) images, because you might end up being "caught" adjusting your glasses, moving your hands, or making funny faces at the camera, and so on.
Take your time and don't forget to have fun, too, while at it!
And, as always, thanks for stopping by!
NOTE: Check out more about the Sigma ART 105mm f/1.4 below: