Going Mirrorless: A First Brief Look at Nikon Z6
DSLR or mirrorless? I've asked myself this question ever since Nikon introduced their new Z line of mirrorless cameras–full-frame format Nikon Z6, Nikon Z7 (last year), and this year, the cropped-sensor Nikon D50, which, btw, is still on my wish list. So, what is it gonna be? Is it even a binary choice?
Nikon Z50 with two lenses: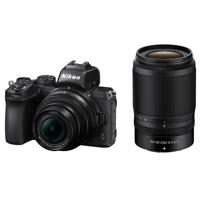 I've been a Nikon shooter ever since 2008 and plan on staying with Nikon. Also, lately, I've been thinking of getting a new camera (it's that time, again, I guess) and have had my eyes on a Nikon Z6 or Z7 ever since they were introduced. This year I fell in love with the cropped sensor Nikon Z50, also mirrorless, and which also comes with two mirrorless lenses–a wide-angle and a telephoto. (for those who might wonder: Nikon Z50 (plus FTZ adapter) can also be used with the bokehmaster, but keep in mind that it has a cropped sensor)
So, what to do, what to do? DSLR or mirrorless? That is…was the question. Hmm….
After months of research and asking advice from photographers I admire, after stopping by Nikon (and Sigma), while at PDN Photo Plus Expo, to chat with Nikon (and Sigma) reps, I decided on a Nikon Z6, and I'm glad I did.
I bought my Nikon Z6 together with a mirrorless lens, 24-70mm f/4; the FTZ adapter, card, and camera bag were included. As mentioned above, attaching the adapter allows me to also use the Z6 with my DSLR lenses, including the Sigma 105mm ART f/1.4. That's always a plus!
The moment I received the camera, I called my wonderful friend and one of my very first models, and we met the following day to take a few test shots. I'm always grateful to my friend for taking the time and putting up with me trying to figure out new equipment.
So, for now, here are a few very brief, first impressions:
The Nikon Z6 looks and feels (in the hand) quite compact and light, even with the adapter attached to it.
It's quiet. (love that!) I set up the "beep" to its lowest setting on both the DSLR and mirrorless; as it turned out, I could barely hear the Z6 (compared to my D750).
It offers a spectacular performance in low light (I tested it at its highest ISO value) and a pleasant color rendition…in my opinion and at least on the first try.
The SD card is a different one than those used in DSLRs. It would be nice to have a card reader for it, for faster and easier image transfer. As of now, I use a cable to connect the camera to the laptop and then iCapture (on the Mac) to transfer images and only then go to Adobe Bridge (yes, I use Bridge), to be able to browse through images and open them in Photoshop….
When shooting in studio, with strobes, I needed to make a few menu adjustments to be able to actually see the subject through the viewfinder. I was shooting blindly at first, and that's not necessarily a fun thing to do. (more on that in an upcoming post)
For now, here's a portrait, in b&w and color, taken during my first test photo shoot with the Nikon Z6:
More images and related posts to follow soon. Until then and as always, thanks for stopping by!