Sigma 105mm f/1.4 for Nikon – First Impressions
My very first prime lens was a Nikon 50mm f/1.8 lens, but, as a portrait photographer I've always wanted a prime f/1.4 lens. And so this past year, I spent months researching, considering and reconsidering my options. While there're several prime f/1.4 lenses ideal for portrait photography, I decided that I wanted to focus on the 105mm f/1.4mm lens.
As a Nikon (shooter for a decade and counting) I first thought of the Nikon 105mm f/1.4 lens, but its price tag (almost $2,200) made me at least try to consider other options. But there were none. At the time the Nikon 105mm f/1.4 prime was the only one of its kind. Then I found out that Sigma was about to come out with a prime lens (105mm f/1.4) for Nikon, Canon, and then Sony. And so I waited, patiently.
Towards the end of last year, the new Sigma 105mm f/1.4 finally became available, first for Nikon and Canon, and soon afterwards for Sony. I spent even more time researching, comparing the two–Nikon and Sigma 105mm f/1.4. I watched online videos, read forums and reviews, talked to experts at Photo Plus and B&H, and so on.
Two things stood out in particular:
Nikon 105mm f/1.4: about $2,200 and 2.2 lb (almost 1kg)
Sigma 105mm f/1.4: about $1,600 and 3.62lb (just over 1.6kg)
To be honest, making a decision regarding which lens became a debilitating task. It really frustrated me that I could not, for the life of me, make up my mind. My question was: if the quality was comparable, would the 1.42 lb (or 600g) [approx. 1.5 lb or 05. kg] justify the $600 difference? Honestly, I still can't answer that question, since I couldn't try out both lenses myself….
The Nikon cost, still costs, a fortune and I couldn't, still can't, quite justify (or afford) paying over two grand for a lens. The Sigma was/is less expensive, but still a small fortune. Also, reviews seemed to show that there're two main teams: the pro-Sigma team and the pro-Nikon team.
So, I decided to wait even longer and continue my research, while also hoping for a discount. That meant, I had to wait until the holiday season.
Then it happened. Around the holiday season, while there were still no discounts in sight for the Nikon lens, Sigma offered a $100 off. B&H, being B&H (and for good and many reasons my favorite camera and lighting gear store) included even more goodies in addition to the $100 off. I ended up buying the Sigma 105mm f/1.4 for Nikon with Sigma adapter (and also a 105mm Sigma filter ) from B&H, making good use of the $100 off offer, free expedited shipping, and also my B&H coupon.
So, here are my first thoughts on my new Sigma 105mm f/1.4 lens :
it's heavy! get a wristband or wrist support of some sort for both hands if possible and especially for longer photo shoots
it's a 105mm lens, but does, indeed, have a tripod collar that can be somewhat in the way, when shooting hand held; the collar can be removed
the lens hood does not screw in around the lens, like most lens hoods do; rather you have to tighten a screw (see image) to hold the hood in place, tight around the lens
it looks like a small, chunky, telescope
it slows you down, but I think that's not a bad thing, because it makes you think and think twice as you photograph
it can change the way you go about photographing, to start off, because you have to (re)learn how to zoom on your feet (Sigma 105mm f/1.4, just like Nikon 105mm f/1.4 is a prime lens); note: do watch where you step while zooming in/out and photographing, it does take some getting (re)used to
it can change the way you go about cropping in camera, in part because it's a prime lens and requires all that zooming in/out mentioned above
in a (good) way, it can change the "look" of your work
it's a fabulous portrait lens
it's super sharp, omg! sharp (to use a "technical" term, lol!) but, again, it takes some getting used to in order to nail that focus; one drawback: because it's a heavy lens, if you shoot handheld, your hand might start shaking, hence, it might be challenging to nail the focus
it's called "bokeh master" for a good reason; especially when used at f/1.4 it melts away distractions in the background, but not necessarily the harsh differences between shadows and highlights or colors…something to keep in mind
because of its phenomenal bokeh, especially when shooting at f/1.4, the lens does a phenomenal job separating the subject from the background and focusing (and I mean, really focusing) on specific detail(s) on the said subject
like its Nikon equivalent, the Sigma 105mm f/1.4 is, after all, a medium telephoto lens; therefore, while for portrait photography in particular it's awesome when used at f/1.4, it also works just fine stopped down all the way to f/16. Give it a try!
another thing worth mentioning: the lens diameter is 105mm! Do buy a 105mm UV filter to protect this lens! These are expensive filters, but better safe than sorry.
So far I've tested the Sigma 105mm f/1.4 lens around the house and on a few assignments, outdoors, and mostly hand held. And one thing is for sure, the longer you use it, the 'heavier' it seems to get. Yeah….
While I'll post more about actual shots and photo shoots with the Sigma 105mm f/1.4, for now here are a few test shots from this past holiday season:
tree decorations and NYC seen through the Christmas decorations
https://www.instagram.com/p/BrxitJilX5Z/
And also, remember when I mentioned that at f/1.4 background details (aka, kitchen cabinets) melt away, but the bright colors (on the fridge) do not:
While I can't share, just yet, all the images I've shot with the Sigma 105mm f/1.4, here's a peek from my photo shoot with author Hans M. Hirschi in Battery Park, NYC (btw, check out his books, they're a must read!):
More on test shoots with Sigma 105mm f/1.4 and anything related to it coming up soon.
Meanwhile and as always, thank you for stopping by!
Updates: I promised to share a few more images taken with  the Sigma 105mm f/1.4. Now I can. Check out my interview and photo shoot with Reverend Yolanda published in A&U Magazine–America's AIDS Magazine for a few more examples of portraits taken with the bokeh master.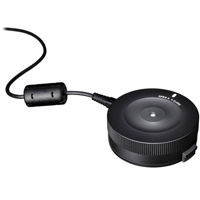 More updates: Next step is to calibrate my Sigma 105mm ART lens. For that, the Sigma adapter comes in handy. For those interested, it looks like the one in the image (right). Check it out!